DRM-12 T3 20 Round Drum Magazine FDE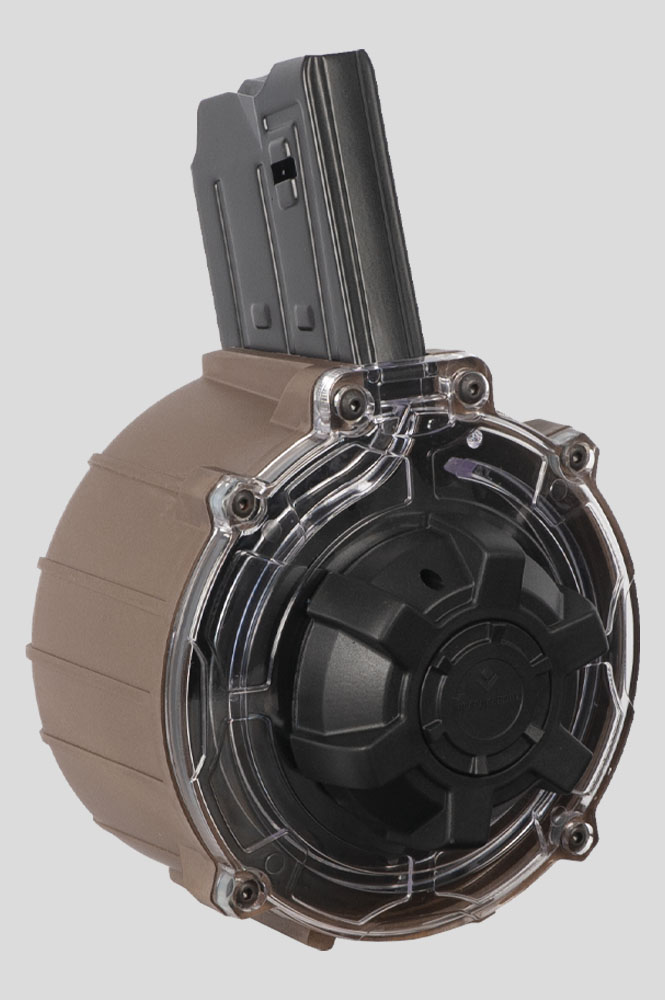 DRM-12 T3 20 Round Drum Magazine FDE
Defenceport is one of the few 20-round drum magazine manufacturers in the world. The fundamental feature that separates Defencepor DRM-12 20-Round Drum Magazine from others is its easy-to-load ability. Maybe we should have named it easy loading magazine. It is, even more, easier to load DRM-12 than ordinary 5 or 10-round magazines.
A principle we take seriously is durability. Defenceport DRM-12 20-Round Drum Magazine's transparent cover, body, and all other parts passed drop tests. It is possible to drop your magazine while loading it, that is why we conducted all the tests in the shooting range. The tests were conducted both while the magazines are loaded and unloaded onto hard surfaces. The results were out of the charts including for the transparent cover. Specially selected Premium raw materials and some special alloys that are designed by our engineers provided us with these results.
The metal part of the Defenceport DRM-12 20-Round Drum Magazine is specially hardened to handle the weight of the loaded magazine.
Performance is again one of our main concerns. We emptied our drum magazines in under 5 seconds after many tries but DRM-12 never failed to cycle.
The DRM-12 will take shells that are up to 3". It was manufactured to be compatible with all 1919-style shotguns. The Defenceport DRM-12 Drum Magazine will work with %95 of the shotguns in the industry.
All parts are changeable and optimal for service considering spare parts, even it's metal magazine. We can put 2+1,5+1,10+1 limiters according to the importation laws of the target country. Designs and some working parts are patented.
TYPE
1919
CAPACITY
20
GAUGE
12 Gauge
COLOR OPTIONS
1. Anodized
2. Cerakote Coating
3. Camouflage
COVER MATERIAL
Synthetic & DKP 1110
INNER MATERIAL
Synthetic